Tens of Thousands of Policies Delivered to Satisfied Customers Since 2008.
"Comprehensive Security Policies customized for you in an hour, guaranteed."
IT security policies
How does it work?
Our innovative policy creation WIZARD asks you questions in plain English to determine your IT security policy needs, and then generates a custom policy to meet those needs. Your IT security policies are emailed to you as soon as they are created. We do not send you thousands of policies and force you to find and customize the ones that apply to you. You will immediately receive your policies that are complete, comprehensive, guaranteed.
You can literally have a custom IT security policy in ten minutes. Better yet, your policies are easily editable in all major word processing programs, allowing you to tweak them to fit your needs exactly. Visit the products page for more information about the IT policies we provide, which include the following:
Acceptable Use Policy
Password Policy
Backup Policy
Network Access Policy
Incident Response Policy
Remote Access Policy
Email Policy
Guest Access Policy
Wireless Policy
Third Party Connection Policy
Network Security Policy
Encryption Policy
Confidential Data Policy
Data Classification Policy
Mobile Device Policy
Retention Policy
Outsourcing Policy
Physical Security Policy
Virtual Private Network (VPN) Policy
In addition, with our most popular product (Gold), you also receive all the Information Security Policy Standard Forms you would need to implement your security policies, including:
Policy Acknowledgement Form
Security Incident Report
Notice of Policy Noncompliance
Account Setup Request
Guest Access Request
Request for Policy Exemption
And more!
Visit our samples page for screenshots of policies and the application, or set up a trial account to see how the unique application works and generate a free sample corporate IT policy customized to your company!
Since policies generated at InstantSecurityPolicy.com are customized to your company, you can immediately use your policies to:
Develop and document a solid security strategy
Satisfy audit requirements
Assist in your compliance efforts with:

The Sarbanes-Oxley Act (SOX)
The Gramm-Leach-Bliley Act (GLBA)
FDA Title 21 CFR Part 11
SAS 70
ISO 17799
ISO 27000, ISO 27001

Adhere to COBIT best practices
Mitigate risk from a security incident
Educate users on sound security practices
Reduce legal risk
Appease partners or customers
In order to meet security standards such as Health Insurance Portability and Accountability Act (HIPAA), Payment Card Industry (PCI) DSS, Sarbanes Oxley (SOX), Massachusetts 201 CMR 17.00, and SAS 70 series of standards, your Information Security Management Systems (ISMS) must meet certain criteria. Our security policies were written based on a cohesive and integrated approach using security best practices stemming from the C-I-A triad of confidentiality, integrity, and availability. If compliance is your goal, the InstantSecurityPolicy.com Gold product will be invaluable to your efforts. If you need PCI compliance we have a PCI Security Policy Template that is downloadable immediately. Are you working to achieve HIPAA compliance? We have a HIPAA Policy Template that you can put in place today!
To be effective, your security policy should share two characteristics: 1) it must be an accurate reflection of your company's security strategy and, 2) it must provide realistic and attainable security goals. A security policy needs to be specific to your company. The challenging part is often finding a way to accomplish these goals without devoting a huge amount of time and/or money to the effort.
your custom security policy
Since its launch in 2008, InstantSecurityPolicy.com has helped thousands of companies in over 55 countries and all 50 US states to cost-effectively address their security policy needs. Policies developed by InstantSecurityPolicy.com assist a diverse customer base in providing a solid foundation for IT security, fulfilling industry regulations, providing security documentation for audits, and acting as a security handbook. InstantSecurityPolicy.com has provided pre-written information security policies to small organizations, companies with tens of thousands of employees, city and state governments and segments of the Department of Defense.
Our security experts have successfully provided consultative security solutions for companies with five employees to fifty thousand employees. We are so confident you will find our security policies to be useful that we offer a money-back guarantee if you are not satisfied. Please visit the FAQ or contact us page if you have any questions.
Because the IT security world is constantly growing and changing, you need our seasoned computer security professionals by your side. InstantSecurityPolicy.com can fulfill this need for you today!
SELECTED CLIENT LOGOS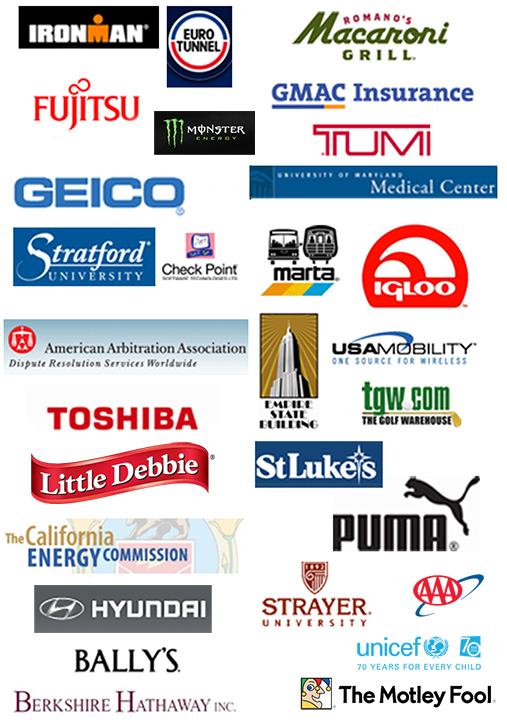 TESTIMONIALS
"I needed IT policies for a PCI audit. Your product immediately gave me what I needed to achieve compliance."
Joe Jones - CIO, Denver, CO
"After our auditor dinged us on our IT security policies I dreaded rewriting them knowing that at my previous company it took weeks. I signed up for your trial and was blown away at how easy the IT policy generator was. At our audit recheck the auditors gave approval to our IT policies exactly as we received them from you."
Lesa Matkins - IT Manager, San Francisco, CA
"My CIO tasked me with updating our IT policy handbook and I was able to use your application to provide completely new and up-to-date IT policies quickly and easily."
Jose Gonzalez - System Administrator, Brownsville, TX
"A new business partner required us to provide our IT Policies for VPN access. I was able to use your IT policy writer to get the necessary IT security policies very quickly."
Doug Jackson, - IT Director, Toronto, Canada